How to verify or add ways to be contacted in Canvas - Parents
In Canvas you can add contact methods to receive notifications. Contact methods allow you to select how you want to be notified when various events occur within a course.
By default, the school has setup the notification email address for parents in Canvas to be the email address that was provided to the School on the application for admission. Parents have the option to add additional contact methods to receive notifications at a different email address, multiple email addresses, or via text message.
Once you add contact methods, you can set your own Notification Preferences to select how often you want to be notified of course events.
Open User Settings
In the left side global navigation click on Account (1) and then Settings (2).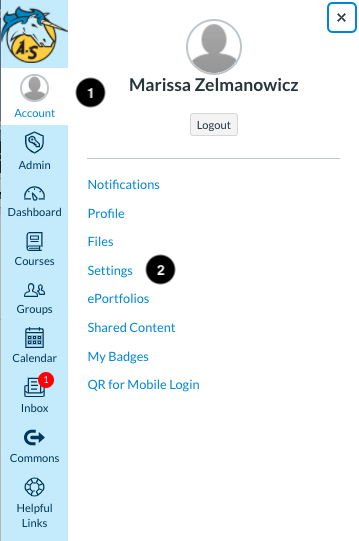 Verify or Add Ways to Contact
In the Ways to Contact sidebar, the default email address associated with the account will be displayed. To add an additional email address click Add Email Address (1). If you want to receive notifications as text messages, click Add Contact Method (2). To stop To stop receiving notifications at a particular contact method, click the Trashcan icon (3).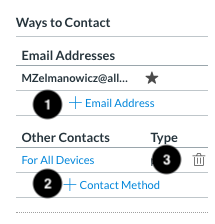 Video
---
---